Enoshima is one of the land-tied islands in Kanagawa, Japan. It is situated at lat. 35°17'N. and long. 139°29'E. Its size is about 0.38 square kilometres.

Although I often go sailing in Katase Higashi-hama, I have ever visited Enoshima only twice. I went there on Oct. of 1998. It was the 3rd time for me to visit there.
But, I stayed only 1 hour.

It comes as a surprise for me to find a good familiar sightseeing spot.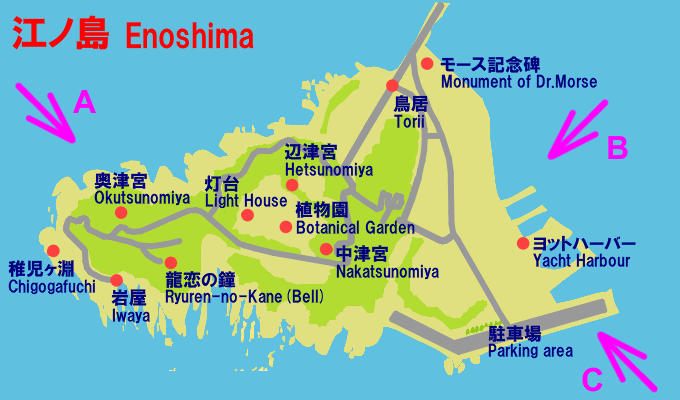 I drew the map above with "Paint Brush." Its shape and the distance of each point are inaccurate. The horizontal length of the map equals about 1 km.
If you wish to learn the accurate topography, or you want to know the inaccuracy of the map above, I recommend you to get the 1:10,000 topographical map by the Geographical Survey Institute.

Please note that the descriptions below contain my personal subjective ideas.